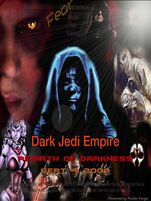 Recruiters
Edit
Any member in any rank is free to bring in people they see fit to call brother or sister in our family. We dont strict anyone of how they do it but we do hope they follow server rules to not cause issues out in the galaxy.    
How to Join
Edit
Recruitement is simple, by going to DJE's Website. You can find all the information on this wiki, and join by posting on the official forums. Once you are accepted, you will be assinged the rank of Student, so you be an Offical member but you must prove you are worthy to stick around long enough to rise in power.
Ad blocker interference detected!
Wikia is a free-to-use site that makes money from advertising. We have a modified experience for viewers using ad blockers

Wikia is not accessible if you've made further modifications. Remove the custom ad blocker rule(s) and the page will load as expected.