Malice
Titles

Mentor Lord

Nickname

True Dark Master

Characteristics

Race

Human

Saber

Single

Gender

Male

Age

27

Appearance

Accessories

Unknown

Hair Color

Black

Eye Color

Crimson

Personal Info

Handedness

R

Facial Features

Very Scary

Planet

Unknown

Member Status

Rank
Master

N/A

Status

Retired

Joined Date

Birth of <{DJE}>

Date Left

2008
Unknown Past
Edit
Malice wasn't very open about himself, heck nobody really knew much about him. He lived in his own world and did things his way without the thought of others unless they were trusted with his life, mostly only one got that title and he was Avatar.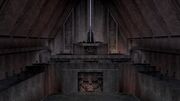 Founding the Guild
Edit
The clan was build around early 2007 or late 2006 with the help of few friends, Death, Jaden, & Avatar. The clan was built to support both sides, Jedi and Sith so they clan founders split the leadership into 2 on 2. Malice and Avatar took the Sith while Death and Jaden took the Jedis. Malice ran the forums and Website to broadcast the clan, and a fellow friend who wasn't a member named Zap hosted a free server till a Official could be found.
Later days Zap shut down his services and a official server for the clan was made thanks to Avatar support. Within that time Death along with a few others started to change the clan when Malice was away for a few weeks, with his return a feud started and the clan split. Malice reformed the clan into known fully as Dark Jedi Empire.
Final Days
Edit
After the split and the clan became one being, Malice recruited a total of 3 extra Lord titles to give a helping hand. Ahs_ayu_ni, Avatar, & spAde. Few months into the clan things started to fall apart, with so little active members and no the lords themselves stopped showing up the clan fell apart. Last two members were Bacon and Flame. Nobody knows what happen to everyone so it was left and forgotten, until bacon and flame showed up to rebuild it.
Malice was skilled fighter in Single style, he didn't use no tricks or cheap shots such as poking or wiggle. He fought like everyone should.
Malice was the master to Avatar who later became Lord.
Also started the first Website